Media What The Papers Say...
'Window shopping' singles in no rush to get married'
SOCIAL MEDIA SNOOPING BEING USED TO FIND PARTNERS - More British Asians are staying single in their 30's after rejecting marriage proposals - from looking at a person's Facebook profile photo, experts claim.
'Is marital bliss now hit or miss?'
Hundreds of British Asian women are struggling to find a husband and are having a tougher times that their parents' generation, it has emerged.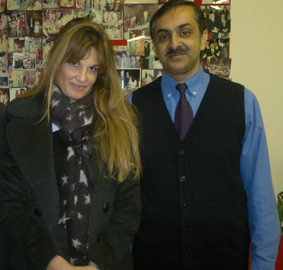 Second- and third-generation immigrant families, with no extended family structure, limited networks and religious restrictions on acceptable ways to meet future spouses, are turning to external matchmakers for help.'

'The success rates are high - wedding photographs and thank you letters line the walls of Parag's office, together with a picture of his mother, the "Asian Cilla Black", Suman Bhargava, shaking hands with Margaret Thatcher and John Major'.

See Full Article at: http://www.newstatesman.com/society/2012/03/arranged-marriage-women-family
'A traditional way to arrange a wedding, marriage bureaus are an ideal way to find a partner without meddling family members. By registering your details the bureau takes on the responsibility of finding you a match and arranging a meeting. Suman Marriage Bureau, the largest organisation in the UK began in 1972. Owner, Parag Bhargava says: "We lay the foundation for a couple and they take it from there without the hassle of family obligations".'
'Parag Bhargava is co-owner of Suman Marriage Bureau International, the oldest Asian introductions agency in Britian, which has helped to arrange 7,000 marriages in 32 years.'
'The Suman Marriage Bureau, in the heart of the Asian community in Southall, Middlesex, was founded in the UK in 1972....' '...They arrange and facilitate marital matches for Hindus and muslims from all over the globe.'
'The problem for Asian women is not that they are being forced to marry but that a growing number of them are not marrying at all, the owner of a marriage bureau said yesterday. Suman Bhargava, who set up the Suman Marriage Bureau in Southall, west London, 29 years ago and is familiar with Asian social trends, was commenting on David Blunkett's remark that "we don't tolerate the intolerable under the guise of cultural difference".'
'Mr and Mrs Bhargava , who were honoured with prestigious Indian awards for their achievements in promoting the role of marriage in society, have helped arrange some mixed-race and non-Asian matches as well as thousands of traditional Indian weddings.'
'The Suman Marriage Bureau, the first-ever "marriage agency" in London, is still doing bustling business.''
'to bring together parents and young people of similar caste, religious and class background, Hindus, Muslims, Christians, Sikhs, Buddhists etc.'
'The Suman bureau in Southall is cutting across cultural and religious barriers by matching Asian women with eligible, white Britons'
The whole site is hosted through reputable servers for your complete peace of mind. In addition, all credit card transactions are through SECPAY, a secure payment company, to minimise any chances of outsiders obtaining your credit card details.
'Some marriages are made in heaven, but a lot more are made right here on earth, and many of them by arrangement'....'arranging the marriages of others has become...a valuable function in London's Asian immigrant community. The idea that boy meets girl, they fall in love and marry is a Western notion that does not accord with the Asian custom that family meets family, and if they agree, boy and girl are allowed to marry.'
'Happy marriages may be made in heaven, but the aspiring husbands are putting their faith in the strict and earthy practicalities of the arranged marriage to find themselves a life time partner.'....'Most people cross their fingers and hope they will be lucky in love. But in West London there is a marriage bureau where the organisers believe love comes a long way down the list of priorities in choosing a lifetime partner.'....'In Britain there is no such grapevine, and that is where the Suman Marriage bureau comes in. Families get in touch with them and they match them up with another family whose qualifications are right for marriage purposes.'
'the Suman Bureau will arrange as many introductions as necessary. Many people marry the second or third person they meet'
'Suman and Ramesh Bhargava have the distinction of being a couple who, having found each other, have devoted their lives to playing Cupid to the world.'.....'The Suman Marriage Bureau, which made headlines as the first bureau of its kind in the UK to institutionalise the hitherto family business of "arranging" marriages for Asians, opened on December 9, 1972.'
'So well served are majority tastes, specialist agencies have been formed, serving..' 'and Asians (the Suman Marriage Bureau).'
'his marriage bureau is proving very popular with Asians for whom arranged marriages are still a moral duty, despite their western lifestyle.'